Well, this week has been hectic. It was our year end at work and it was my first. I had heard some terrible things about year end, but it wasn't bad at all. I did have to work over a bit so I didn't touch my camera at all. :0( I know... pretty terrible. Oh well, I had to chose a favorite photo from our Saturday Slip n slide fun.
Emma was so funny, she kept wanting to walk down the slide. My sister was helping her slide down, but she didn't really like that a whole lot. I like this shot because the focus is on the water and I always love a good water shot ;).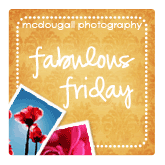 Thanks for stopping in! Leave a comment and I'll come visit you!
Becky