So it's Sunday and I'm actually not late on this haha :0). Well, to be honest, I'm not late cause Mel reminded me about it so that helped me know to run out and take some pics yesterday. I always mean to, but don't end up doing it, I'm sure you know how it is. Anyhoo, I didn't take many pics, but I did take some of the flowers on our front porch. I tried to play around with it in an hdr sort of way... not that I really know how to make an hdr photo. Definitely could've looked it up, but didn't really feel like it so I just combined several different photos with different exposures and erased what I didn't want. My goal was to create a picture where everything was well exposed. After I got the pics together I decided to add a little texture. It was fun. Hope you like it.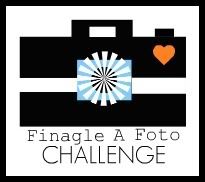 Then I'll share one of my favorite girl since I haven't shared one in a bit. ;0) She's a mess, but she's my mess!!
Have a great Sunday everyone!!