Last night I tried out a b&w conversion on a picture of a my friend's little girl, Abbie. She's a sweety, love her big brown eyes to pieces! She's the baby of the family and so so precious. I have always wanted to do a B&W conversion without using any actions, because I can't ever seem to get what I want when I do it through actions. Anyhoo, I saw this tutorial over at Ashley Sisk's blog and although I'm a little late on it, I thought I'd try it out. Late... seems to be the theme of my blog ;0).
SOOC:
After the B&W conversion: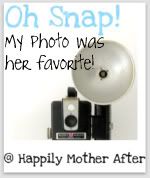 I really like how it turned out! Check out Ashley's
blog
to see her tutorial and a link to the original tutorial! It was really quite simple and I really like how it turned out. The original tutorial was done in LR, but I did mine in PSE10.
I opened up my SOOC shot and chose "Enhance"
Then clicked on Convert to B&W in the drop down box
I hit "Ok" in the popup box - now my photo is gray
Then I went to the layers tab and created a "new adjustment layer" for "brightness and contrast"
I then adjusted the brightness so that the whites were very white and the contrast so that the blacks were darker.
That's it. Very simple.